This is a guest post by Colin Bovet, the Head of Marketing at Enplug, a digital signage company that helps organizations improve their marketing and culture through better communications.
Your company has spent millions of dollars and countless hours perfecting your brand or launching a rebrand: that ephemeral mix of logos, fonts, and taglines that defines the way you appear to the market. Marketing and management are (finally!) on board and ready for launch. Before you fire up the engines, though, you should be sure your employees are fully aligned behind your new vision.
This is a good time to focus on your internal branding: a "continuous process in place by which you ensure your employees understand the "who" and "why" behind your business proposition" (Businessweek). Internal branding rarely gets the attention of external branding, yet it plays a crucial role in business success.
Internal branding can help you translate the elements of your brand into physical employee behaviors. If done correctly, it creates a virtuous cycle: Attract employees who love your brand, and those employees will communicate that brand to your partners and customers, thereby strengthening the brand and attracting even better employees. Southwest Airlines is a great example of this cycle: LUV attracts LUV, and everyone benefits.
We interviewed Matt Hoffman, VP of People at DigitalOcean, on how DigitalOcean aligns and motivates employees. His overarching theme was that they effectively align their company values – simplicity, transparency, and love – with their product values.
Below are five effective internal branding tactics, with notes to help you get started:
Internal Communications
Having a clear and consistent strategy for conveying your brand values to employees is the top challenge in internal branding (Canadian Marketing Association Study). Your internal communications should create a two-way dialogue between managers and employees. The most widely used channels are email, intranet, social media, office posters and displays, and internal messaging (MarketingProfs).
Training Support
When Starbucks shut down all 7,100 locations in 2008 to train, align, and motivate employees, it was so widely discussed that it's still cited in articles like this. Having a formal training process that matches your brand should begin at onboarding. A great example of this is Valve's Employee Handbook, which instils brand values in employees in a beautiful, on-brand document.
Leadership Practices
Company leadership has a crucial role to play in role-modeling your internal brand, yet only 22% of employees feel that "management walks the talk with respect to brand values" (Canadian Marketing Association Study). Yvon Chouinard, the founder of Patagonia, is a strong example of a leader who shapes his company, products, and team around strong brand values. To learn more, read his entertaining book called "Let my People go Surfing."
Reward & Recognition Programs
Recognize employees who act in accordance with your brand standards. Zappos built their brand on helpful customer service, and much of their culture is built around helping each other. Employees can award small bonuses or "zollars" to other employees who have gone above and beyond to help out.
Recruitment Practices
Every component of your company's operations should reflect your internal brand. Say your potential candidates spend hours interviewing and preparing material, and your HR team doesn't spend five minutes to let them know they've hired a different candidate. If your company brand and values include valuing people, you've just failed to do so. That candidate might end up posting a negative public review on Glassdoor, harming your brand.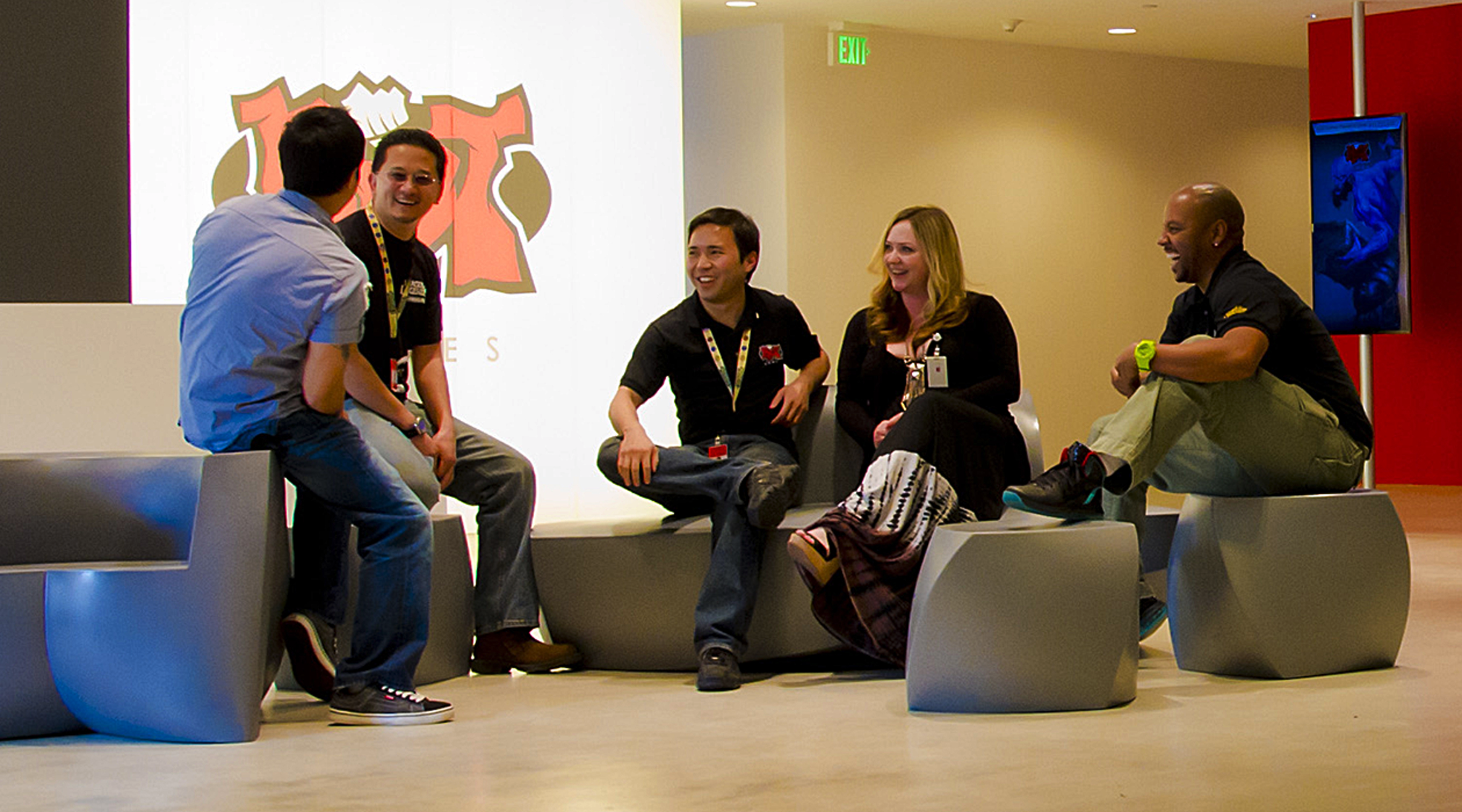 Riot Games incorporates transparency and feedback into internal branding.
Today, less than half of employees believe in their company's brand, and fewer still have the tools to deliver on that brand promise (Forbes). At the same time, larger companies are allocating more resources to improving their internal brands. Perhaps your organization should follow suit – before it's too late.