Occasionally I volunteer my time to USAID and go teach and mentor startups in developing nations. Last time I went to Macedonia and taught startups from Albania, Macedonia and Kosovo. This time I was offered a chance to work with startups in Odessa, Ukraine. These startups come from Maldova, Ukraine and Belarus. It's a huge honor to me to have the opportunity to work with these communities. I volunteer my time, because if my teaching and mentoring helps a single startup grow and succeed it can literally change an entire country. Yes, it's a week off work, which has significant opportunity costs – but the potential upside is so wonderful. Who could say No to that?
Before you ask – no I didn't feel a war going on anywhere. I was in a hotel with startups most of the time and the few hours I was able to get out and walk around the city all I could see were gorgeous Art Nouveau buildings. And Darth Vader.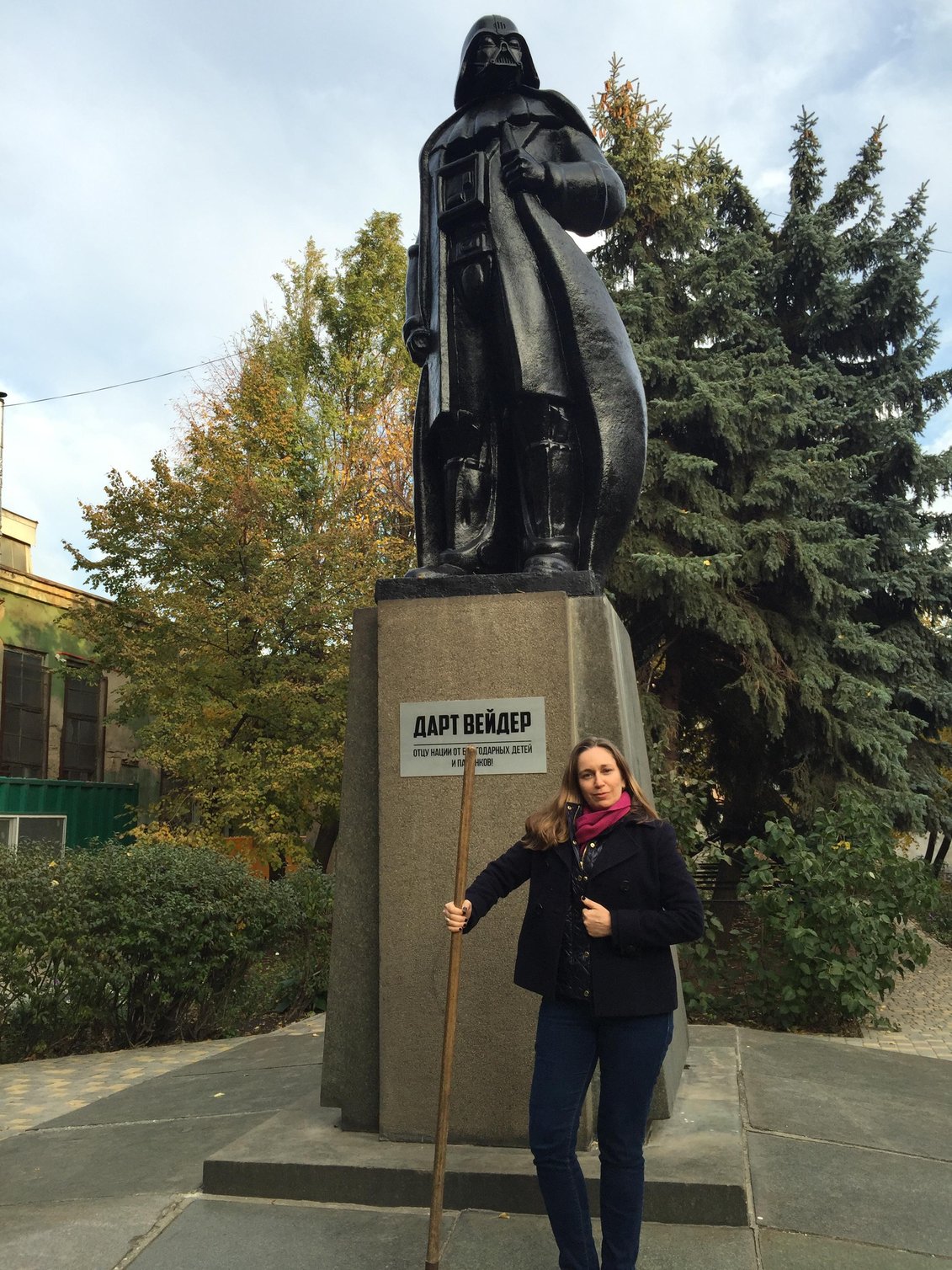 Meeting Darth Vader in Odessa, Ukraine
I've never had such good timing to see a society icon in my life. I made a point to go see it in person.
Mentoring startups
Onto the teams – they were surprisingly strong. Well, maybe not so surprising considering the amount of amazing dev outsourcing that region is known for. And that's the thing – the dev centers now have enough experience behind them to know how to make great products on their own. Combine that with low labor costs and you have the perfect storm for a rush of great products and bootstrapped startups. What the companies lack is marketing and sales know how – but they are catching up fast. There were 28 companies at this Traction Camp – and my comments on them all are below:
www.getcapitan.com Capitan is a first smart shopping list to help you save time, make smart suggestions and sync your family's requests whenever you are located within or near the stores. He's done serious research on his customer and seemed to have everything really down pat. Now it's all about delivery and if the customer actually wants this product. This is a realm where many have tried and so far none have won.
http://renta-analytics.com Renta Analytics is an app for web analysts that enables them to measure how much actual profit was generated by each keyword, ad and marketing channel.
www.meetngreetme.com MeetnGreetMe  is a blend of online social platform and offline localized concierge services, delivered to business and leisure travelers by locals around the world. AirBNB for tours. I think they need to move to SF.
http://eventerpro.com/  B2B service that helps partners launch ticket services or charity auctions of to meet specialists or celebrities in their country.  It could be a consultant offering time and donating the payment to charity, or an artist or actor. Eventpro facilitates the auction and the meet.
http://probanker.com.ua  Probanker is banking interactive insights with smart filters, visualization and comparison tool that helps people make well-informed decisions when choosing a banking service provider. Think Mint but in a startup so it still cares.
http://ilave.pro/  One stop shop service for tourists & end-to-end solution for tour (excursion) companies. Another grand ambition, but the team comes from the tourist industry and knows it from every direction.
https://ringostat.com  Intelligent call tracking. Ringostat has actually been around since 2013 and has reached product/market fit. Now they are looking to scale.
http://Q-page.com  Q-page is the fastest landing page builder for SMB. Think unbounced for SMBs – no design experience needed. Which is great because I've seen what non-designers have done to websites (it's not pretty).
http://adtena.com Adtena is online platform for managing advertising campaigns in Wi-Fi networks using precise geolocation and customer data for delivering the most relevant mobile ads.
http://foster.report/ Foster is an automated analytics system for ad campaigns.
http://slidepay.com.ua  Slidepay is a new mobile informational payment system which combines possibilities of modern and convenient contactless payment system with powerful marketing tools, and helps to bring business closer to the clients. Think Apple Pay and Google Pay put together and agnostic. It's definitely ambitious.
https://www.fentury.com/  Fentury is an automatic personal finance software that helps you see all your incomes and expenses in one place. The app has aggregated over 2,000 banks and enables you to connect bank accounts and e-wallets and get receive data about your spending. You also get budgeting tools. Like Mint, but for Euro-Asia, South America.
http://Retent.ly  Retently is a powerful Customer Success Platform for subscription businesses. It helps increase revenue and customer retention by gathering, processing and enriching various data and providing enhanced tools for improving customer communication and reducing customer churn.
http://publicfast.com  Publicfast is influence marketing platform, that help brands find hire and start working with influencers (content creators) in social networks. I have to love this one because according to its platform I had the most influence of all the mentors. And I'm stupidly competitive so that made me happy.
http://kangapay.com  Kangapay is a web service for retail and mobile app for their customers that allows to to bypass cash registers in supermarkets – scan and pay by smartphone. I want this implemented in all grocery stores already.
http://www.ideanomix.com  Ideanomix has been creating its own mobile apps since 2013. More than 4 millions installations, our apps are leaders in their categories in the Russian appstore. Now we are creating apps to revolutionize womens health. I couldn't read the app, but a few of the women at Traction used Ideanomix's women's health app and they loved it.
http://www.winefique.com  Winefique is a professional wine blog that shares the undiscovered legends and stories of the Moldovan wines (later of the entire Eastern Europe) and ships a selection of the best wines in the country in a winebox of samples worldwide. This startup brought wines with him from Maldovia. And the wines were awesome. I'll be purchasing a box when the product is ready.
http://netpeak.ua/software  Netpeak Software is a company that developes tools for SEO-specialists and webmasters who want to increase their website search engine optimization level, usability, or compare their websites with competitors.
http://www.StepShot.net  StepShot is a productivity tool to quickly create software and/or procedural documentation with process recording features which are unique on the market. I liked the team a lot. The CEO is very active in the developer community.
http://www.mevics.com  MeViCS offer you one of the ways of the posture control for the children and adults – a device "MeViCS prevention". "MeViCS prevention" – is the health care gadget, which is used for the prevention and treatment of disorders of posture for children and adults. The device helps you keep your posture correct and helps prevent stooping. And I caught myself stooping while typing that so I am now sitting up straight. I get the need. Now the product needs to launch with a kickstarter campaign.
http://www.1000leads.co 1000leads is a solution that provides leads for your product/startup. A list of automatically scanned and manually verified Full Names, Emails and Social profiles. I plan on testing them for lead generation for Hunter & Bard. The founder impressed me.
http://www.hellocareer.md  Hello Career is an online CV builder.
https://www.saltedge.com/  s a financial data aggregation platform for FinApps, banks, financial, investment, insurance advisers and accountants worldwide. It's in the same company as Fentury. I kept yelling at  telling them to choose one and focus and they did – they choose Fentury!
http://bebeep.com.ua  bebeep application allows passengers in real time to find drivers on the roads, which are on your way, to join them for a small price during morning and evening rush hours.
http://www.outsourcingfarm.com/Fithero.pdf Fithero is a positive reinforcement solution consisting of a fitness tracker, a BLE personal scale and a mobile application supporting parents to keep kids on a diet in a playful way. For kids Fithero is just a META videogame where real-world actions provide ingame benefits and real rewards. The founder has possibly the most impressive background of everyone at the conference. He comes from gaming and is well known in that world. I think this product will be an issue from how to get the kids to start playing (my sons would be suspect of any game I actually wanted them to play) but it's a huge wonderful goal and I hope he's extremely successful.
http://ontourcloud.com 

Helping festival promoters find talent locally and helping artists find additional opportunities while touring.

http://workhack.net/  Workhack is a marketing platform for B2B-SaaS products in Russian speaking regions.
Pawer – no website yet. With that said – there were three mentors (myself included) who were ready to invest in this company during demo day. Pawer is a beautifully designed activity tracker for small indoor dogs and cats that through mobile app helps the owners to better understand and connect with their pets.
I'm absolutely certain that we will be hearing more from many of these companies. There was more than one bright star in the room. Thank you again to USAID and Max Gurvits for this amazing opportunity.
With me mentoring was: